Due to the timing of the inclement weather, NASD schools and offices will have a remote asynchronous learning day today - Thursday, January 20, 2022. Students please log into your computers for assignments.

Northampton Area Schools will operate on a two-hour delay on Tuesday, January 18, 2022. Offices will open at 8:45 a.m.

Mrs. Shaner held a "book tasting" in her classroom this week for students, in which they were able to sample books to gauge their interest. The students (and staff) really enjoyed the event - thank you Mrs. Shaner and everyone who participated!!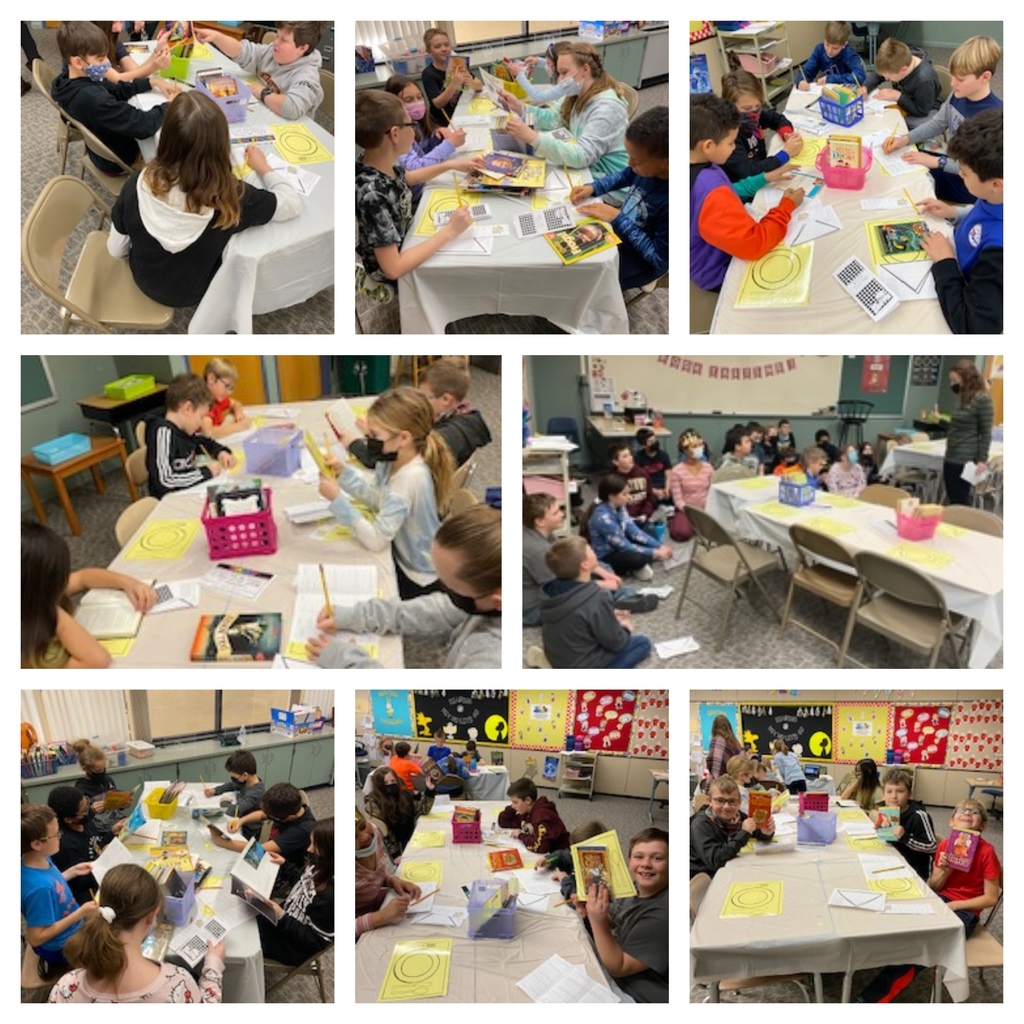 The Moore PTA Meeting scheduled for tonight, Jan 12th, is canceled.  Our next meeting will be held on Wed, Feb 9th at 6:00pm in the APR. Anyone interested in volunteering to work the Paw Prize Cart on Fridays, please contact Mrs. Lattemann at 
klatte_08@yahoo.com
Thanks!

Northampton Area SD: Due to icy conditions, NASD schools will operate on a 2 hour delay, Monday, January 10, 2022. Offices will open at 8:45 am.

Northampton Area SD: UPDATE All District offices are now closed on January 7, 2022. Flexible Instructional Day activities should proceed as planned.

Due to the predicted inclement weather for tomorrow, Friday, January 7, 2022, all District students K-12 will have an asynchronous (can be completed at any time during the day) learning day tomorrow. Students will not report to their schools and they will complete their work from home. All assignments will be posted for students by 9:00 a.m. K-2 assignments will be posted through Class Dojo and Google Classroom. Grades 3-12 assignments will be posted through Schoology. BAVTS students should not report to the vocational school. Thank you. Mr. Kovalchik

In December, tornadoes struck several areas in Kentucky & caused horrible devastation. Many families lost everything, & several communities were destroyed. Moore is holding a donation drive from Jan 3-Jan 28 to help. Please see the attached for more information.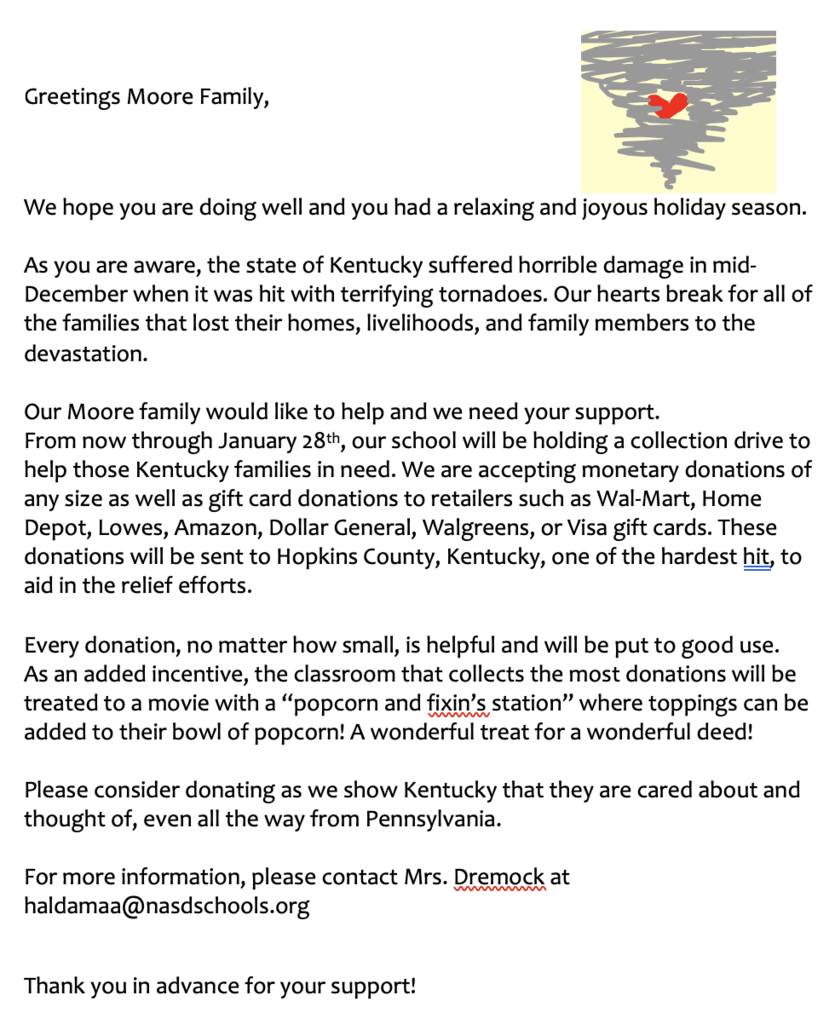 Wishing everyone a Happy New Year! Here's wishing you all a 2022 full of happiness, joy, and #MooreKindness!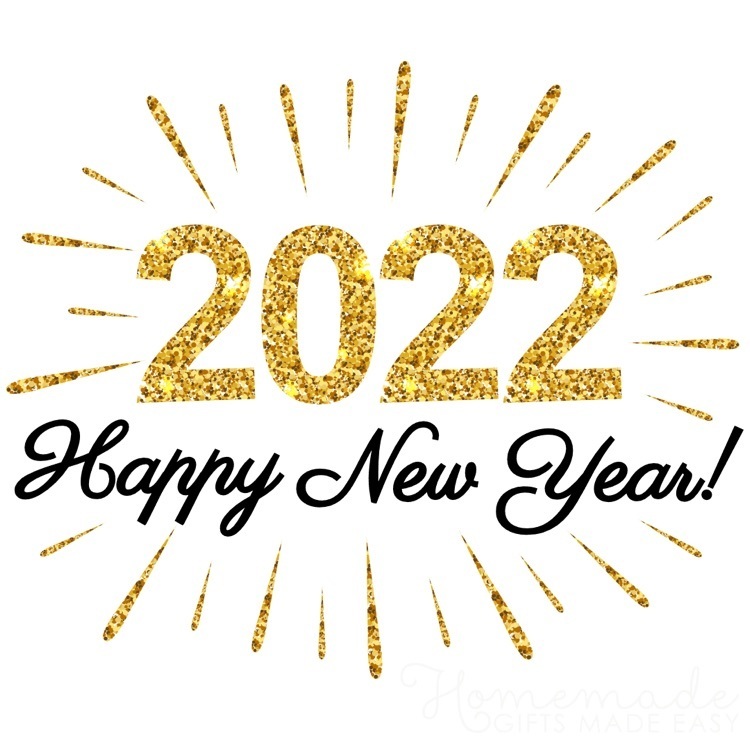 From our families to all of yours, Moore Elementary School wishes you all a very Merry Christmas and a Happy New Year! Our social media pages will be taking a small break over the Holidays, so this will be our last post for a couple days. Be sure to check back after January 1st.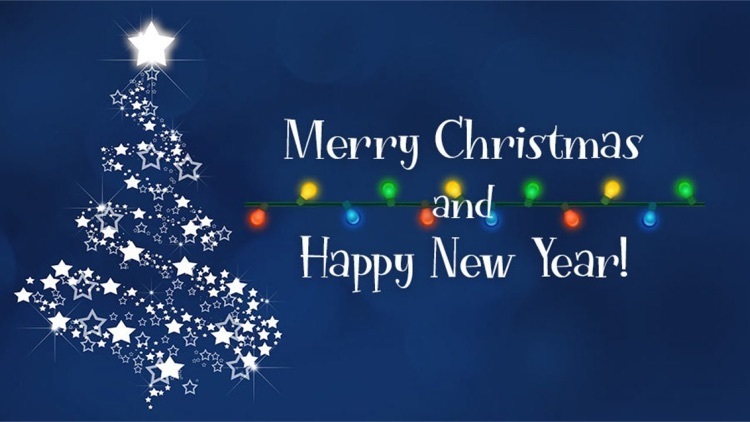 Based on Mrs. Cramer's current status, Moore Holiday Spirit Week was a huge success - and tiresome!! Good thing she has a couple days of rest over the break to get re-energized for the second half of the year! Happy Holidays everyone (and thanks Mrs. Yorke for the photo)!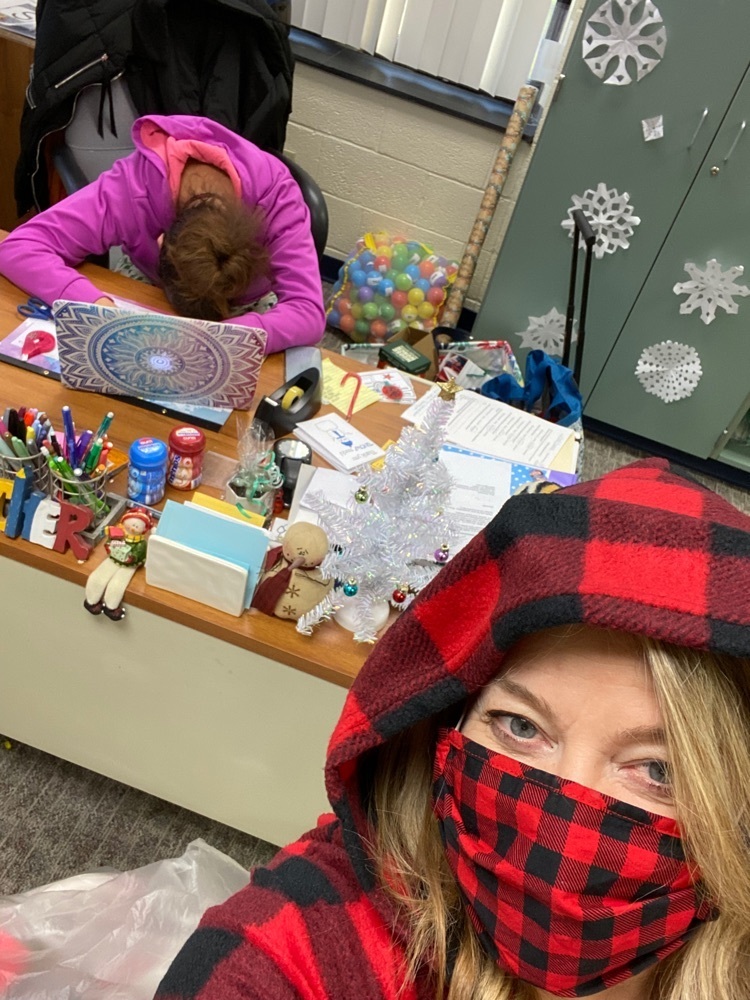 Santa and some of his elves visited Moore today!! It's been a fun Spirit Week at Moore - so exciting to see all of the students and staff dressed up for the holidays!! Don't forget your PJ's tomorrow for Polar Express Day! #MoorePride #HappyHolidays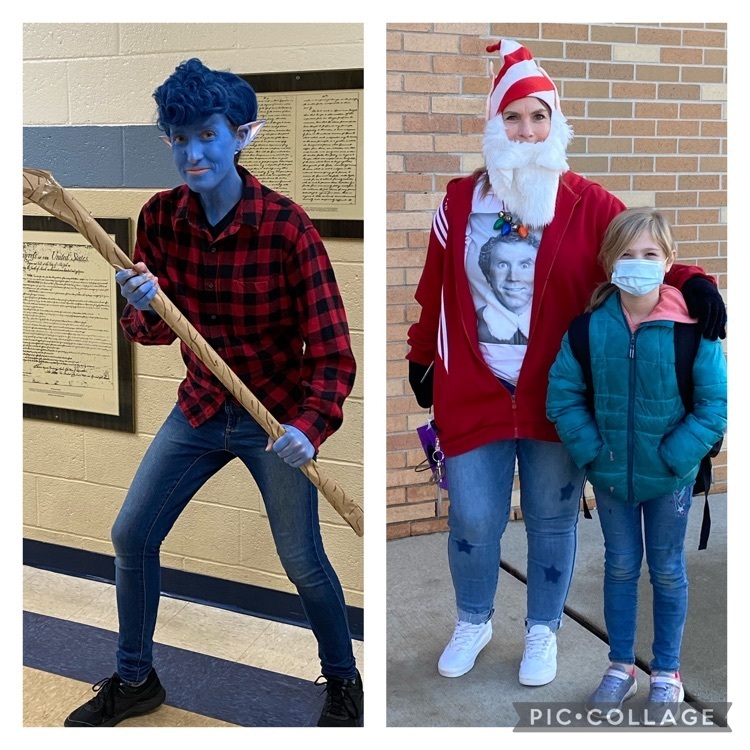 You know we're in the Holiday Spirit when even our bus drivers are dressing up for spirit days!! Thank you Bus 18 driver Larry for rocking your snowman outfit today!!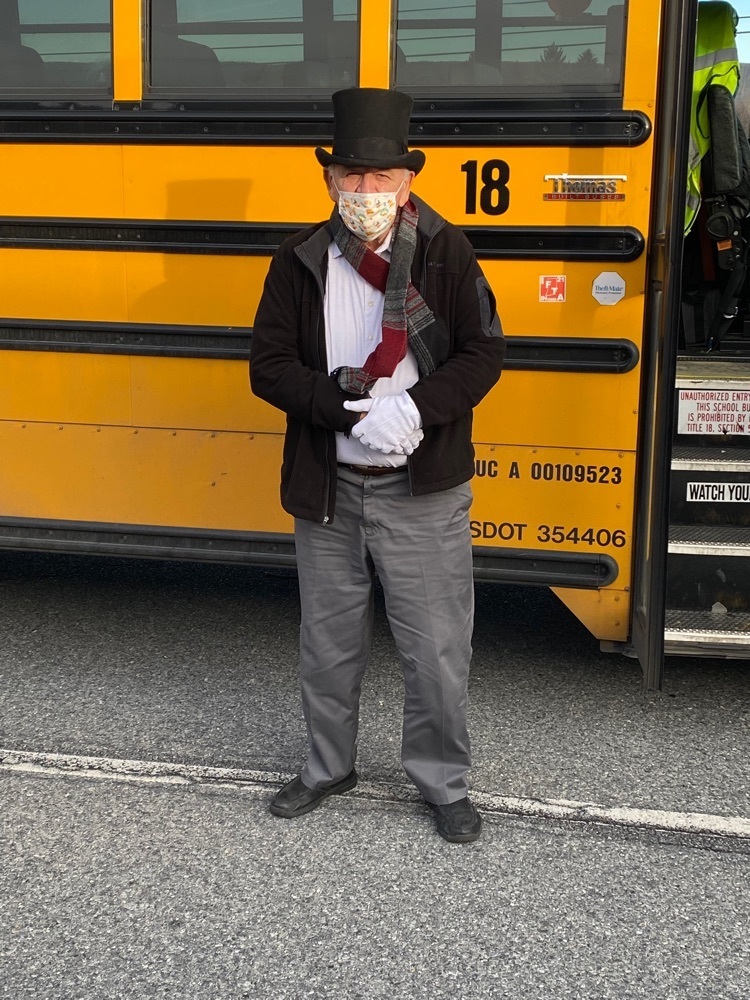 Another outstanding Holiday concert this week…with our Band and Orchestra showing off their skills!! Great job everyone - and Happy Holidays!!



Just a reminder Mountain Lion students and families, Friday kicks off our Holiday Spirit Week at Moore Elementary!! We hope to see everyone participate in these fun dress-up days, and spread a little winter/holiday spirit!!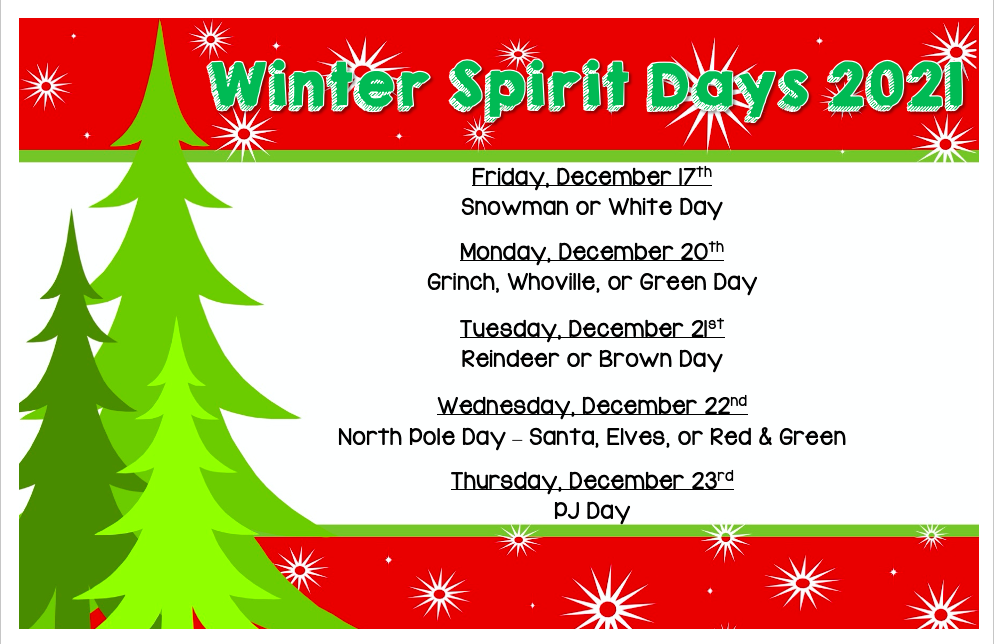 An amazing show put on by our Chorus tonight! For all of these kiddos, this was their FIRST ever chorus concert - and you would never have known!! Hard work and determination + outstanding students = one fantastic concert!! Great job Mountain Lions! #MoorePride #MooreChorus


Great job by our Band, Orchestra and Chorus at today's in-school Winter Concert! It was so nice being able to see you perform in person - you all rocked it!!!! #MoorePride #MusicInOurSchools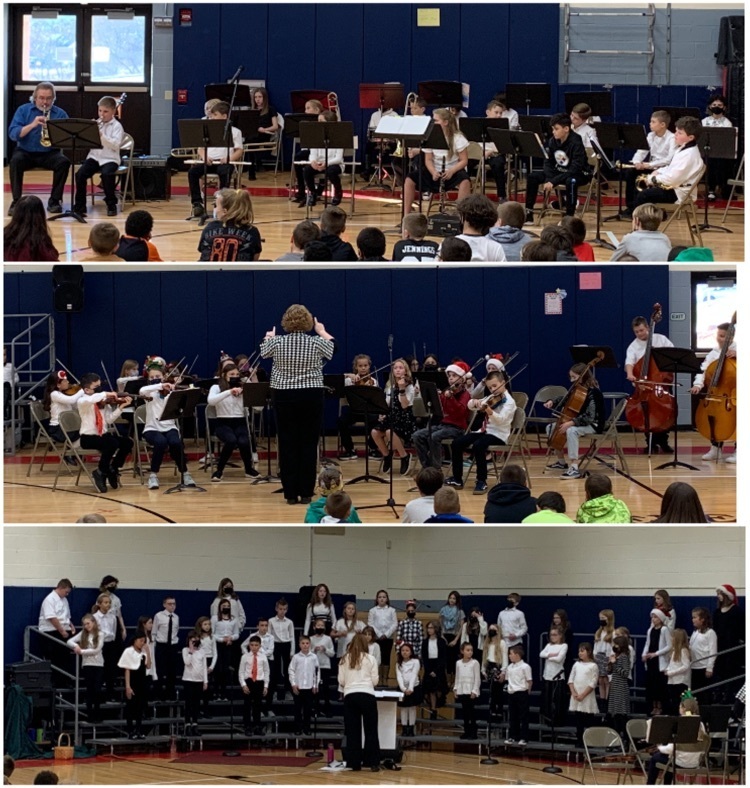 (continued from prior post) Thank you to the brave men and women who sacrificed so much during the invasion on Pearl Harbor, and subsequent WWII. "The Greatest Generation" deserves so much credit for all they did to provide us with the freedoms we have today. #NeverForget

"12-7-1941 - A date which will live in infamy—the USA was suddenly & deliberately attacked by naval & air forces….No matter how long it may take us to overcome this premeditated invasion, the American people in their righteous might will win through to absolute victory." - FDR

Just a reminder that the Toys for Tots toy drive will end this week - so if you're interested in supporting our toy drive, please get your new-unwrapped gifts in this week. If you miss out, no worries! Our DECA toy drive has started and will run until next Thursday!!